About Me:
My name is Irit Koren and I am a psychotherapist with a private clinic in Modiin. I believe in deep processes that can produce significant change and I give individual, long-term psychological treatment (in a dynamic approach).
My treatment allows physical and emotional space in which:
It is permissible to talk about everything, without a judicial and critical eye;

To

reach the root of the patterns and difficulties

in order to produce change;

To

receive empathy and understanding alongside thinking and interpretation,

which makes it possible to see things from a different angle;

​

To receive professional treatment with a therapist with experience and sensitivity to issues of

gender, femininity, sexuality, interpersonal relationships, life transitions, and life crises.
I believe, that therapy is a joint journey in which we plunge into the depths of the soul to understand what motivates us, what activates us, what patterns we recreate in our lives, and how we can listen more to our desires and act towards change. This change creates a sense of choice and freedom within life.
I think that the success of the treatment stems from the delicate relationship between therapist and patient. Many studies show that the success of treatment stems not from the theoretical approach in which the treatment is done, and not from the documentation and training that the therapist underwent, but from the feelings of caring and trust and the deep connection between two people who meet intimately, differently and uniquely in a room once or twice a week. This is a meeting that is different from any other encounter in your life.
If you wish to learn more about me, here is some additional information:

I received my Master's degree in clinical social work from Yeshiva University in New York and completed my diploma in psychotherapy at the Magid Institute of the Hebrew University of Jerusalem.
Before that, I did my Ph.D. in the Gender Studies Program at Bar-Ilan University. For many years I studied, researches and taught in academia both in Israel and in the US (e.g. Columbia university, JTS, Rutgers University, Sapir College). After nearly a decade in academia, I felt that although my studies and publications dealt with social issues, I was detached from the people and from life itself and so I wanted to touch people in a more profound way.
My degree in Gender Studies and the years I did research work and taught, have given me a sensitive perspective on gender issues, including issues related to femininity, masculinity, sexuality, sexual orientation, gender relationships and communication, cultural sensitivity, and so forth.
In the past, I worked for the psychological service at Sha'ar Hanegev at Sapir College, and at the same time I taught in the Department of Social Work in courses related to multicultural sensitivity, academic writing, and supervised student's training. Before that, I worked in the public mental health service, where I treated adults with a variety of difficulties and disorders (difficulties in interpersonal relationships, anxiety, depression, adjustment difficulties etc.).
I wrote two books: Altering the Closet: Stories of Religious Gays and Lesbians "(Yediot Ahronot, 2003), and" You Are Renewed to Me: Gender, Religion and Power Relations in the Jewish Marriage Ceremony "(Magnes Press, 2011). I have also written several articles in various journals on gender, power relations, sexuality, femininity and masculinity, and so on. These articles were written in Hebrew and English and I Give therapy in English.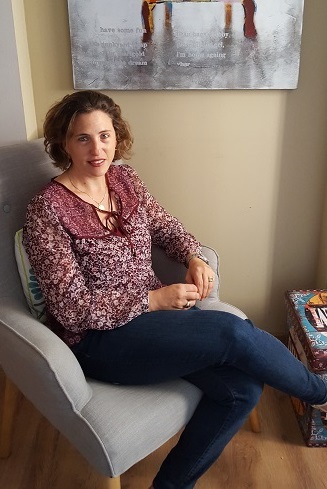 Contact Information: Mobile: 054-5665906; E-mail: korenirit@gmail.com